By: Mike Folta
|

On: March 1, 2020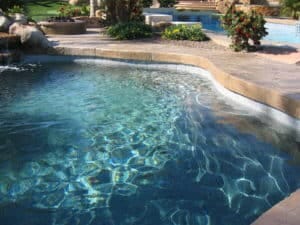 If you're a homeowner and have a pool, now's the time to start thinking about swimming pool resurfacing, before it looks more than worn. Swimming pools are the life of any home, neighborhood and family. With swimming pool resurfacing, you can keep it in shape and looking good for your next party. That's why we've put together these swimming pool resurfacing tips to ensure that your pool looks good all the time. 
Does your pool need to be resurfaced? In this blog post, you will learn everything there is to know about swimming pool resurfacing tips. 
What is Pool Resurfacing? 
Pool resurfacing uses a cement-like finish to keep a pool's surface in shape, and operational so it doesn't leak. As well as keeping a pool healthy, Pool resurfacing also makes a pool look more appealing. Resurfacing a pool adds significant value by replacing a deteriorating surface with a new surface. Typical applications that are used for resurfacing a pool are plaster, tile, quartz, as well as pebbles. Since each application offers its own individual characteristics, such as durability and texture, it's essential to decide what works best for your pool.
Swimming Pool Resurfacing Tips 
Stay up-to-date with pool repairs
If there's an issue with your pool, it's best to address it as soon as you see the problem. Ignoring any damages will mean later on down the line costs will only become more costly due to neglect. It's not uncommon for deteriorating pool surfaces, or finishes, to spring a leak. This could cause graver structural damages later on. 
There are obvious warning signs to look for if you are concerned that your pool may require pool resurfacing such as: 
Stains 

Cracks

Leaking

Chalky residue

Drops in the water level
If you find any of these warning signs, then it's time to consider pool resurfacing. 
Choose the right pool surface for you 
By picking the pool surface you prefer, you will end up with something that you not only will like, but that will last a long time. Of course, a professional pool resurfacing company will always give you the detailed advice you need to make the right choice. Remember, there are tons of options to choose from, as well as each option giving you a different life-span. For example. plaster finishes only last 12 to 14 years, whereas, pebble-based products have been shown to last longer in some cases. 
Don't put a band-aid on it
Patching a pool surface does not always hold up. It may help resolve some issues in the short-term, but in the long-term, it won't solve anything. Eventually, you will need to get your pool resurfaced. Sometimes, it's best to dive in headfirst and spring for the long-term with pool resurfacing. 
Don't assume pool resurfacing takes ages
Many pool owners incorrectly assume that pool resurfacing takes ages, when in fact a typical pool resurfacing job can take from 3 to 4 days. 
Pool Resurfacing by Classic Marcite 
Now that you know swimming pool resurfacing tips, it's time to find the right swimming pool resurfacing company. As a family-owned swimming pool resurfacing company, we can ensure that we produce a reliable pool resurfacing service that benefits our customers. Classic Marcite offers the following services for our customers: 
We are a team of professionals engaged in changing the pool resurfacing industry for the better. We strive to offer the choicest care for our customers. Contact us today to receive a free, no-obligation quote.