By: Mike Folta
|

On: June 1, 2020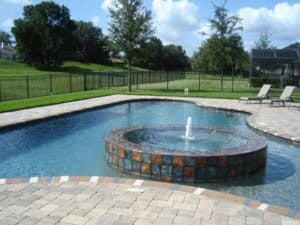 The fact is pools are a lot of fun. From parties to relaxation, pools offer a variety of fun-filled activities for the whole family. That's why it's so important to take care of your swimming pool. If you don't take good care of your residential swimming pool, it can easily grow old and worn. That's why we here at Classic Marcite put together this blog post on residential pool renovation ideas, so you know how to make your pool look good as new again—in fact, we can make it look better than new. 
Residential Pool Renovation Ideas 
So if your pool is beginning to look like its seen better days, then it might be time to consider some of the residential pool renovation ideas. 
Rockface Waterfalls
One of the best residential pool renovation ideas is to have a rockface waterfall. This adds a cool element to your pool that visitors will love. For some swimmers, a pool can easily feel stagnant without moving water from a feature. A rockface waterfall can help create a sense of movement. A fountain is another option. 
Stone Decking
Stone decking is another great residential pool renovation idea. For appearance, replacing your decking is one of the most important parts of a pool renovation project. It's the decking that can often start looking old and worn. Using stone decking can give your swimming pool a facelift. 
Beach Entries
Many commercial pools offer beach entries—why can't your residential pool offer a beach entry? This may add a new layer to the renovation process and can take some time, but a beach entry is something to consider if you have the room for updating your pool. This can make your home have the illusion of having a beach on your property—just imagine those days where you want to go to a beach, but can't. Now you'll always have a beach day. 
Pool Theater
If you have a pool deck, then why not add a projector or a large TV so you can have a home theater right there for all swimmers to enjoy? Though this isn't exactly a pool renovation—since it adds a new element to your swimming pool, it is going right here as a pool renovation idea. Just whatever you do, don't watch "Jaws" in the water. You don't need that kind of trauma. 
Find a Reliable Pool Renovation Company
If you've decided that it's time to find a pool renovation company, then you need to make sure you find the right one for you. A reliable swimming pool renovations company:
Offers the services you need

Customer service comes first

Has good review
Pool Renovations by Classic Marcite 
If you're looking for a dependable residential pool renovation company, then look no further than Classic Marcite. We provide reliable pool renovation and resurfacing services for our clients, delivering the following services: 
We are a business of specialists dedicated to transforming the pool remodeling industry. We strive to deliver the most trustworthy services for our clients. Contact us today to receive a free, no-obligation quote.