By: Mike Folta
|

On: June 15, 2020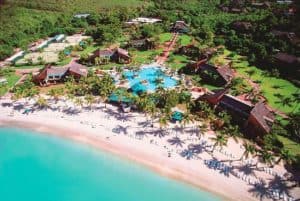 Considering getting your commercial pool renovated? Now is the best time for commercial pool renovations. Your commercial pool is probably one of the biggest selling points for your business. Whether you're a property owner for a resort or a hotelier for a hotel chain, you need to make sure that your resort or hotel swimming pool is being taken care of properly. 
Over time, commercial swimming pools age and soon will need a facelift. This can be done easily and efficiently if you choose a reputable swimming pool renovation company. Due to the fact that many commercial pools are closed before summer is in full swing, now's the best time for commercial pool renovations. 
So what is pool renovations and how does it work? In this blog post, we will go over everything you need to know about pool renovations. Continue reading to learn more about how and why now's this is the best time for commercial pool renovations. 
What are Pool Renovations?
A pool renovation can focus on several distinct aspects of pool remodeling. A pool renovation can focus on updating anything from pool tiles to the deck and patio area. A renovation project can encompass restoring the pool by eliminating cracks and erasing stains as well as updating lighting. Pool renovations are as all-encompassing as you'd like them to be. 
The Best Time for Pool Renovations 
The best time for commercial pool renovation can vary. Though, it's common to renovate your swimming pool between peak summer. This means that the best time to renovate a commercial swimming pool is between October and April. This is of course contingent on location. For example, Florida may have a shorter time frame for renovation since its pretty much summer all year round. 
However, since it is not peak summer and this season may not be as busy now due to concerns about the Coronavirus, if you didn't have a chance to update or renovate your swimming pool then now is a good time to do so. Traditionally, the best time is whenever the pool is not being used, which is likely the case right now. Pool renovation projects don't have to take years or even months, they can be done swiftly and are contingent on the planning that's in place and the scope of the work in general. 
Commercial Pool Renovation Ideas 
There are some great commercial pool renovation ideas you can use to help jumpstart your pool renovation project. These ideas include the following: 
Change lighting 

Replace pool finishing 

Add water features

Upgrade equipment
Commercial Pool Renovations by Classic Marcite 
As a family-owned pool renovation company, we make sure that we implement trustworthy pool renovation services that help foster strong relationships with our clients. Classic Marcite offers the following trusted services to our clients: 
We are a dedicated team of pool professionals committed to transforming the pool renovation industry. We strive to deliver the best pool care services for our many clients. Contact us today to receive a free, no-obligation quote and to learn how Classic Marcite can bring your pool back to life.