By: Mike Folta
|

On: July 15, 2020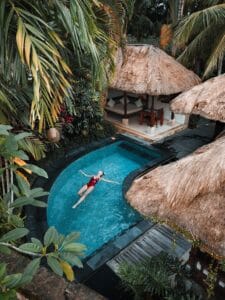 One of the top pool renovation and design trends for 2020 and beyond is the emergence of more eco-friendly pools.
From utilizing solar technology to picking a more heat retaining finish to installing larger pool filters, there are several simple ways that you can renovate your swimming pool to make it both more environmentally friendly and more energy efficient.
Interested in finding out more?
Keep reading to discover how you can save money on your pool costs and do your bit for the planet with these seven top tips for pool renovation.
1. Automate your pool operations
One of the simplest ways to keep a handle on your pool's energy usage is by using technology that can help automatically run your pool systems. Whether you want to turn on your lights, activate your water features or have instant control of your pumps, you will be able to control all aspects of your pool, wherever you are, from your mobile device.
2. Upgrade to LED lights
Using LED lights for your pool can save you an estimated 80% on electricity, and they will last a lot longer than standard incandescent lights. Switching to more energy-efficient bulbs may also mean you are eligible for a rebate from your utility company.
3. Pick a darker finish
Dark-colored finishes absorb the sun rays, whereas lighter ones reflect them. Therefore, choosing a darker finish can help to keep your pool heating costs down. Pebble Tec is an excellent option for pool finishes as it comes in 18 different colors, including some stunning deep blue hues that are ideal for heat absorption.
4. Improve your plumbing
If your pipes are too narrow or your plumbing runs around too many tight corners, you may find your pool has dirt, debris, and bacteria in it. Especially in the winter months when you may not use your pool for long periods. Inadequate or inefficient plumbing can cost you a lot more in the long run, so you must invest in an upgrade if needed.
5. Consider using solar
Solar heaters or solar covers are a great way to make your pool more energy-efficient and more eco-friendly. Utilizing the power of the sun's rays, solar heaters are great for heating your pool during the day, whereas solar covers are ideal for maintaining temperature overnight.
6. Install larger filters
If you want to give your pool pumps a helping hand, installing larger filters, that have a bigger surface area through which water can flow, can help you. Larger filters can extend the life of your pump as well as lower its overall energy consumption.
7. Keep on top of maintenance
The importance of looking after your pool should never be underestimated when it comes to keeping your energy costs down and your pool as environmentally friendly as possible. Make sure you keep your drains clear and aim to reduce the pool's temperature when you are not using it.
If you are looking for pool renovation in Orlando or pool renovation in Jacksonville, please do not hesitate to get in touch here today.